Tally SMS Plugin Settings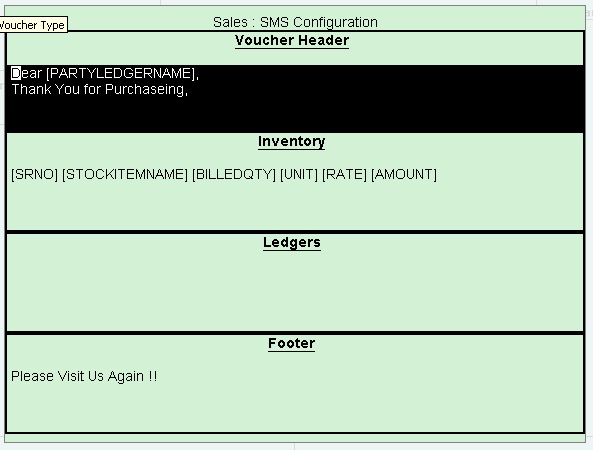 1. To enable the sending SMS : Set the Send SMS = Yes
2. Setting SMS Template : Set /Alter SMS Template = Yes Then one form will be opened.
a. Voucher Header : Set the Voucher Header Text here.
b. Inventory : If the Voucher is an Inventory Voucher then enter the Inventory Text here.
c. Ledgers : Enter the Ledger Text here.
d. Footer : Enter the Footer text here.
The TEXT Tags must be enter in "[" and "]" in Capital format.
Example : [PARTYLEDGERNAME], [AMOUNT], [DATE], [VOUCHERTYPENAME]
[VOUCHERNUMBER] : Voucher Number
[DATE] : Voucher Date
[PARTYLEDGERNAME] : Party Name
[VCHNO] : Voucher Number
[VOUCHERTYPENAME] : Voucher Type
[BASICBASEPARTYNAME] : Basic Party Name
[BASICSHIPPEDBY] : Shipped By
[SHIPPEDBY] : Shipped By
[BASICDESTINATIONCOUNTRY] : Destination
[DESTINATIONCOUNTRY] : Destination
[BASICBUYERNAME] : Buyer Name
[BUYERNAME] : Buyer Name
[BASICPLACEOFRECEIPT] : Place of Receipt
[PLACEOFRECEIPT] : Place of Receipt
[BASICSHIPDOCUMENTNO] : Doc Number
[SHIPDOCUMENTNO] : Shipping Doc No
[BASICPORTOFLOADING] : Port of Loading
[PORTOFLOADING] : Port of Loading
[BASICPORTOFDISCHARGE] : Port of Discharge
[PORTOFDISCHARGE] : Port of Discharge
[BASICFINALDESTINATION] : Destination
[FINALDESTINATION] : Destination
[BASICORDERREF] : Order Ref
[ORDERREF] : Order Ref
[BASICSHIPVESSELNO] : Vessel No
[SHIPVESSELNO] : Vessel No
[BASICDUEDATEOFPYMT] : Payment Due Date
[DUEDATEOFPYMT] : Payment Due Date
[BASICDATETIMEOFINVOICE] : Date Time of Invoice
[DATETIMEOFINVOICE] : Date Time of Invoice
[BASICDATETIMEOFREMOVAL] : Date Time of Invoice Removal
[DATETIMEOFREMOVAL] : Date Time of Invoice Removal
[BASICORDERTERMS] : Order Terms
[ORDERTERMS] : Order Terms
[BASICBUYERADDRESS] : Buyer Address
[BUYERADDRESS] : Buyer Address
[BASICPURCHASEORDERNO] : Order Numbers
[PURCHASEORDERNO] : Order Numbers
[BASICSHIPDELIVERYNOTE] : Delivery Note Number
[DELIVERYNOTE] : Delivery Note Number
[AMOUNT] : Voucher Amount
[REFERENCE] : Voucher Ref
[NARRATION] : Narration
[SRNO] : Serial Number
[LEDGERNAME] : Ledger Name
[AMOUNT] : Ledger Amount
[INSTRUMENTDATE] : Instrument Date
[CHKDATE] : Instrument Number
[TRANSACTIONTYPE] : Transaction Type
[PAYMENTFAVOURING] : Payment Favouring
[CHEQUECROSSCOMMENT] : Cheque Cross Comment
[CHKCROSSCOMMENT] : Cheque Cross Comment
[INSTRUMENTNUMBER] : Instrument Number
[BANKPARTYNAME] : Bank Party Name
[INSTRUMENTAMOUNT] : Instrument Amount
[SRNO] : Serial Number
[STOCKITEMNAME] : Stock Item Name
[BASICPACKAGEMARKS] : Package Remark
[BASICNUMPACKAGES] : Number of Packages
[RATE] : Rate
[AMOUNT] : Amount
[ACTUALQTY] : Actual Qty
[BILLEDQTY] : Billed Qty
[QTY] : Qty
[BQTY] : Billed Qty
[AQTY] : Actual Qty
[ITEMNAME] : Stock Item Name
[STOCKITEM] : Stock Item Name
[ITEM] : Stock Item Name
[UNIT] : Unit
[BATCHNAME] : Batch Number
[BATCHRATE] : Rate
[BATCHAMOUNT] : Amount
[BATCHACTUALQTY] : Actual Qty
[BATCHBILLEDQTY] : Billed Qty
[BATCHUNIT] : Unit